Sure, the world may be in complete and utter chaos, but that's a good thing. Why? Because everything that's going on right now is sure to cause some much-needed changes to our system, which has been very obviously broken for a long time. But, just because things may be a little different at the moment doesn't mean you can't still be successful in your work, it just means you need to create a situation that allows you to earn money from home. Why not start that business you've been thinking about for a while now? Here are just a few of the online businesses you can start today without spending a ton of money.
Online Businesses You Can Start Today Without Making Any Major Investments
Let's face it; most of us aren't in a position right now where we can drop a ton of money on our online businesses. But that just means that we need to get a little more creative and really put in the work where it's needed. So, let's take a look at some inexpensive online businesses that you can start today!
Disclosure: This post contains affiliate links which will provide Mondays in PJs a commission, at no cost to you, if you choose to go through with these offers. Please keep in mind, however, that all of the offers made on our site are due to their quality and not their affiliate status.
Blogger
Blogging is an awesome way to earn money from home while at the same time, having a creative outlet and platform that's entirely your own. There are several ways that you can monetize your blog, including selling ad space, using affiliate links, selling digital products and/or services and more. While you probably won't start making a ton of money just after starting, if you stick with it, you can turn it into an ultra-profitable online business.
Online Teacher
If you've got marketable skills that would be of interest to children or adults, you can always create some online courses, and teach on a platform like Udemy. There are a lot of people who are looking for some fun and educational new activities to keep them occupied in their free time these days. You can teach everything from English to music and so much more. Anything that you can turn into a useful lesson for others can earn you some online money with Udemy.
Mask Dealer
It's rare that you'll encounter a situation these days where a ton of people are out without masks on. They're everywhere, and very much in-demand all around the world. Disposable masks are flying off of the shelves and people are searching out more stylish and comfortable options on Amazon. So, if you've got sewing skills and a sewing machine, why not open up an Etsy shop, or sell masks on Amazon and/or eBay? If you've never made a mask, there are plenty of tutorials out there to get you started. Just make sure you create a unique angle to your business and masks that allows you to stand out above your competitors.
Affiliate Marketer
The sky's truly the limit with affiliate marketing, and it doesn't require you to spend any money to get started. If you have a solid network, whether it's your personal network or you have tons of followers on social media (or a blog,) you could earn a substantial income from home as an affiliate marketer! The products and/or services you choose to represent should be based on you and those who you're trying to sell to.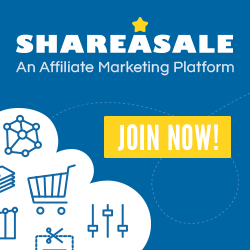 While most companies have an affiliate program, if you join a network like ShareaSale, they'll do most of the work for you, and all you need to do is sign up once (for FREE) and start searching for one of the many amazing companies they have listed in their network! They have everything from mattress and furniture stores to paid survey sites that will pay you for every sign-up! This may be one of the quickest online businesses you can start today, and without spending a single cent.
CBD Slinger
If it seems like everyone and their mom's are selling CBD, it's because they are. But that doesn't mean that you can't run a successful online CBD business. CBD (cannabidiol) is a chemical compound found in cannabinoids, but doesn't include enough THC to make one feel "high." Instead, it offers many of the medicinal benefits of the plant, including natural pain and anxiety relief. If you choose to start selling CBD, don't just jump on the first opportunity you see – and, there will be a lot of them. Make sure you choose a reputable company with good products and reviews, like CBD FX.
Consultant
Do you have skills in any particular area of life that others may want to learn, too? This could be professional or personal, as consulting businesses can range from being a digital marketing consultant like me, to life-coaching and teaching things like how to be more assertive and get what you want. Plus, consulting could be one of the easiest (and cheapest) methods of launching your home-based business. You can always start by selling to your personal network, or jump right in and create a website and social media pages to promote your services.
Social Media Manager
Are you super-skilled when it comes to gaining followers and engaging on any of the social media platforms? If so, why not try your hand at running social media management for business owners? While many of them may be trying to handle things on their own these days, it's just not possible in every situation. You'll definitely have some competition if you choose to go into this field, so make sure you're marketing yourself in a way that makes you stand out. Perhaps by offering some type of discount package, and featuring your own killer social pages.
Read next: Ten of the Best Ways to Use Canva to Create Awesome Graphics for Your Business!
Pin it for Later!
Erika Sellmer is a plant-powered digital content specialist who's passionate about veganism, content creation, and social media.
Be the first to know when we post exciting new content!